China students studying in Penang, Malaysia, worked together to tide over difficulties.
University Science Malaysia (USM) is a leading research University in Malaysia, located in the beautiful island city of Penang. It is known as the most beautiful garden University in Asia. The [email protected] is the only Malaysian institution in University Science Malaysia to serve all Chinese students in the University. Since January 2020, [email protected] has followed China's epidemic control and coordinated with University Science of Malaysia to prepare for virus prevention for the new semester as soon as possible.
January, 2020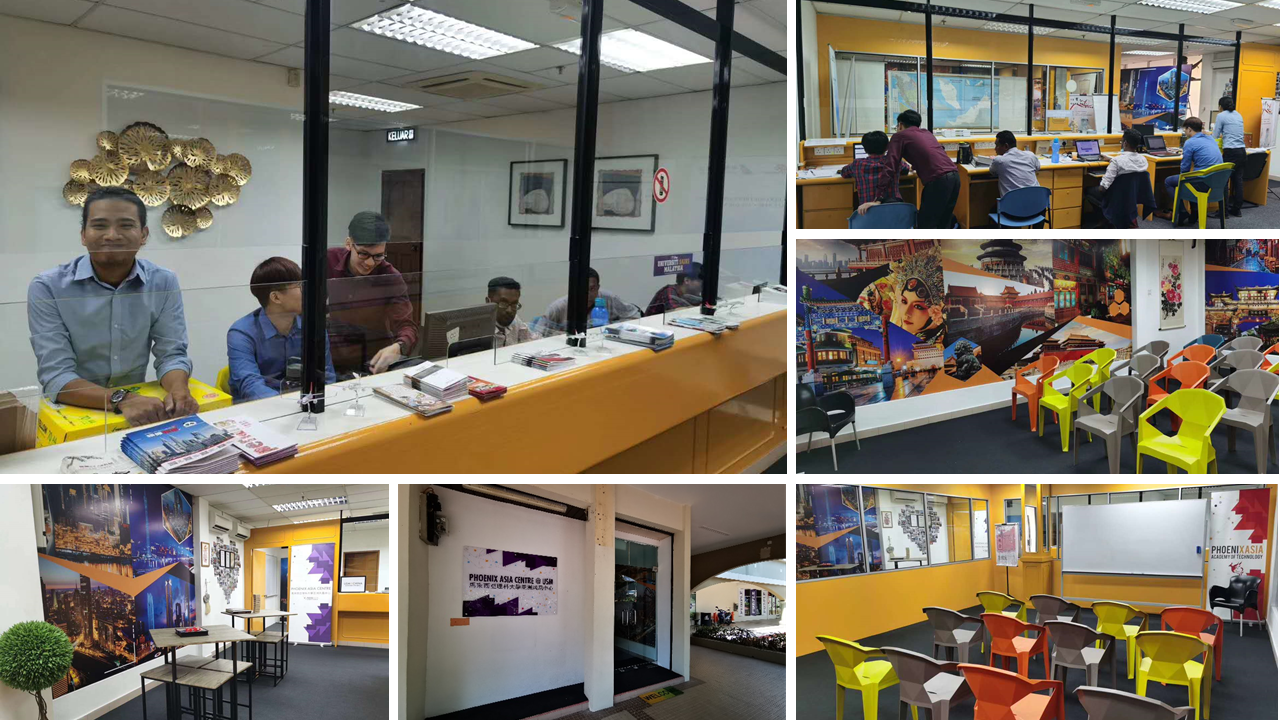 With Chinese students arriving in Penang one after another, [email protected] immediately established a WeChat group of "USM Chinese students stand together against the epidemic". Chinese students were immediately arranged to go to USM Medical Centre for screening tests upon arrival in Penang. A professional medical team led by Dr. Normala (Director of USM Medical Centre) works 24 hours a day to provide medical screening for China students who arrive any time at USM medical centre. After passing the physical examination, the particulars of Chinese students were recorded and the students were assigned to the dormitory for self-quarantine which lasted for 14 days. During this period of time, [email protected] staff worked with the University medical centre to provide care and help by checking the temperature of each incoming student on a regular basis.
February, 2020
[email protected] prepared epidemic control supplies for international students
In order to handle the situation of the students returning home, [email protected] stepped up its epidemic control efforts. The office of [email protected] provided services to China students around the clock. Students came to the [email protected] to get masks, disinfectants and wet wipes. During the epidemic, the teachers of [email protected] were always there for the Chinese students through online platforms such as WeChat, phone, QQ and email. They put in effort to solve the students' registration, enrolment, medical checkup, VISA and a series of University admission procedures. As soon as the freshmen arrived at the Penang international airport, the teachers from [email protected] were on call to welcome the junior students at the airport. Teachers from the [email protected] were able to converse well in Mandarin Chinese and English to help the newly arrived junior students with local phone card, foreign currency exchange, and private car to take them to the University for registration and accommodation. The students who arrived by night flight also received warm receptions by the teachers from [email protected] late at night. The teachers prepared refreshments such as drinking water and local specialty bread for the students while picking them up at the airport, anticipating that the students might have an empty stomach due to no inflight meals being served on the night plane.
March, 2020
Teachers at [email protected] centre have stocked up on supplies for international students
Since March, the epidemic which has been brought under control in China has brought a great joy and relief to everyone. Unexpectedly, the virus experienced a resurgence. This meant that Malaysia had new confirmed cases of Coronavirus, Penang was not excluded. Fortunately, the Malaysian government made a quick decision and announced control movement policies nationwide. Nationwide "movement restrictions" were implemented on 18th to 31st March 2020. There was a total ban on mass movement and assembly throughout the country. This includes religious, sports and games, social and cultural activities. All places of worship and businesses were closed except supermarkets, public markets, convenience stores and stores selling daily necessities. The implementation of this measure fully shows that the Malaysian government takes the Coronavirus outbreak seriously. [email protected] followed the guidelines of the Penang state government and instructed all students to self-quarantine at home. During the period of restriction, all campus activities have shifted online. However, visa, student registration, courses and other matters have not been interrupted. Teachers at [email protected] actively communicated with relevant departments, both online and offline, trying their best to provide answers and solutions to students. Most noteworthy, the head of [email protected], Kenneth Quah, summarized and sent out the latest news on the Penang government's fight against the Covid-19 outbreak almost 24 hours a day in real time. He explained and delivered positive epidemic control messages to all the China students at USM. He also provided the parents back home in China with reliable progress of Malaysia fighting the epidemic. In addition, students in off-campus accommodations were also given much attention. Teachers at [email protected] in charge of the dormitory department delivered nutritious meals daily. Food such as Chinese herbal soup, lotus soup and so on was served on a consistent basis to enhance student's health and immunity.
Phoenix Asia distributed care packages provided by the Consulate General of the People's Republic of China in Penang to students from China.
Dear students, please do not panic even though the epidemic is here. China is our strong backbone, and [email protected] is also our warm home overseas. Look out the window, Penang is still beautiful with warm sunshine, long sandy beaches, clear blue water and clear skies, we are in this together.
All the staff of [email protected] wish you all stay healthy and stay safe.
[email protected] is a warm home for international students. Let's work together to overcome difficulties and fight the epidemic. Malaysia and China we can do this!